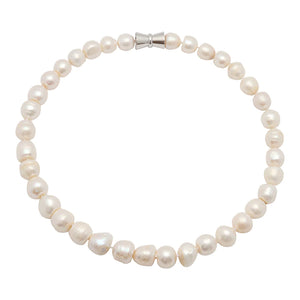 White Freshwater Cultured Bam Bam Single-Strand Pearl Necklace Double-Knotted on Silk w/ Rhodium Plated Stainless Magnetic Closure 18".
Girl With A Pearl's Story 
As International Flight Attendants, we travel the world searching for just the right freshwater cultured pearls and adornments to create our handmade designs. Each pearl is hand-selected by us from the pearl markets of Asia with specific designs in mind to compliment your unique style and taste. Our collections have been designed, handmade and shipped to our customers from our studio in Nashville, Tennessee since 2008.