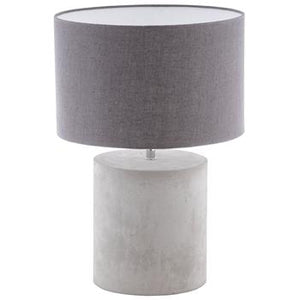 Add a modern twist to your lighting with this concrete minimalistic design. This round lamp features a charcoal shade that adds a playful juxtaposition between light and dark and natural and manmade elements.  

Concrete base, Linen Shade
Wipe with a dry cloth
Approx. 12.75"D x 18.5"H
About Karma:

Our mission is to provide thoughtful, unique products for those who love life's beauty. We're passionate about offering a stunning, functional line of gifts and décor with sweet sentiments to remind everyone of the important things in life.  You will love showing your gratitude to friends and family with gifts selected from our expansive line of bags, stationary, travel accessories, apparel, and home goods.
Thoughtful designs and a dedication to building relationships are our primary focus as we seek to make the planet a more compassionate and peaceful place.  Karma… it can change the world.