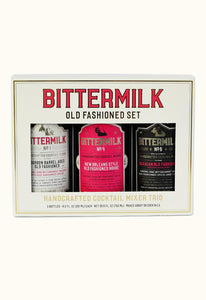 BITTERMILK OLD FASHIONED SET:
A fresh look on our favorite gift set.  An Old Fashioned, three ways — get all three Bittermilk Old Fashioned style cocktail mixers with the Old Fashioned Set cocktail mixer trio. Packaged in a foil stamped box, it makes a great gift.
INCLUDES:
Includes three 8.5 fl. oz. bottles: No.1 Bourbon Barrel Aged Old Fashioned, No. 4 New Orleans Style Old Fashioned Rouge and No.6 Oaxacan Old Fashioned
Makes about 50 cocktails using an easy 1-part Bittermilk to 4-part spirit recipe.