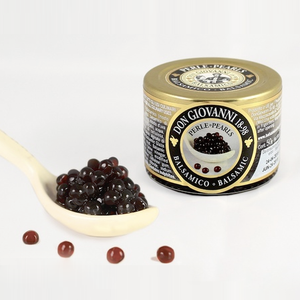 Balsamic Pearls are small balls with a liquid core made of balsamic vinegar, reminiscent of caviar but 100% vegetable, without gelatin or animal derived ingredients.  Obviously, ours contain no dyes or preservatives, suitable both for foodservice and the individual consumer.
They have a very nice texture with soft liquid core that "bursts" in the mouth and can be used on sweet or savory dishes, hot or cold (always at the end of cooking).  Scatter over roast meats, chicken or seafood or use them to highlight the flavors of everything from vegetables and salads to fresh fruit, ice cream and desserts.  The best way to eat them is on a risotto or simply on a piece of cheese. 
Net weight: 50 g/1.76 oz Ingredients: concentrated grape must, Balsamic Vinegar of Modena, water, thickener (calcium chloride, sodium).  Contains sulphites.