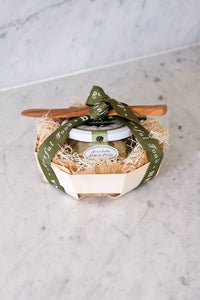 Our best-selling Artichoke Pesto in a balsawood gift box, with an Olivewood spreader. Use the recipe on the bottom of the jar and bake right in the balsawood box!
In the early nineties, Alisa Barry opened a café in Atlanta to share her passion for cooking and eating as an artful ritual.  Inspired by her culinary training in California and sabbaticals in the hill towns of Italy, she created a simple menu made with locally sourced ingredients.  When her loyal customers kept asking to take home her artful offerings, an artisan food business was born. 
Bella Cucina Artful Food is an all-natural, artisan product line available in lifestyle gift and specialty food stores around the world.