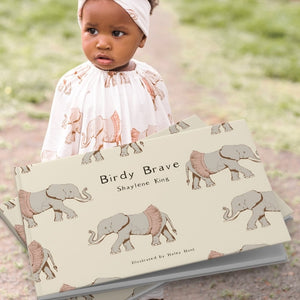 Reminding us of the power of a bedtime story, author Shaylene King explores the value of bravery and self-acceptance in the tender tale of Birdy Brave. Right before Birdy Brave fades into dreamland, shared moments of love become lessons for life. 
Dimensions: 11.25 × 8.50 × .70 in
ISBN:

978-1-953869-00-5

Format Specifications: Textured Hardcover Edition with a Heavyweight Foil Printed Dust Jacket

Interior Specifications: Thick 100 lb Text Weight Paper with a Natural, Matte Finish
Pages: 32pp
Library of Congress Control Number: 

2021909495

Publisher: Milkbarn, LLC
Publication Date: September, 2021
Print: Tutu Elephant
------
Milkbarn's original, one-of-a-kind prints and designs showcase a magical collaboration between Stacy and her daughter, Haley Hunt.  This mother-daughter duo creates more than just images on fabric; they weave untold stories, wonder, and love into every piece.
Haley's distinctive artwork has become integral to Milkbarn's textiles and fabrics.  From rich, realistic vignettes; to whimsical, larger-than-life illustrations; to bold, detailed paintings, every brushstroke begins by celebrating a child's imagination.  In addition to working on textile prints, Haley illustrates the Milkbarn collection of children's books,  bringing to life the stories told by a select group of authors.